Web caching topologies
FortiGate web caching can be added to any security policy and any HTTP or HTTPS traffic accepted by that security policy can be cached on the FortiGate unit hard disk. This includes WAN optimization and explicit web proxy traffic. The network topologies for these scenarios are very similar. They involved a FortiGate unit installed between users and web servers with web caching enabled.
A typical web-caching topology includes one FortiGate unit that acts as a web cache server. Web caching is enabled in a security policy and the FortiGate unit intercepts web page requests accepted by the security policy, requests web pages from the web servers, caches the web page contents, and returns the web page contents to the users. When the FortiGate unit intercepts subsequent requests for cached web pages, the FortiGate unit contacts the destination web server just to check for changes.
Web caching topology

You can also configure reverse proxy web-caching. In this configuration, users on the Internet browse to a web server installed behind a FortiGate unit. The FortiGate unit intercepts the web traffic (HTTP and HTTPS) and caches pages from the web server. Reverse proxy web caching on the FortiGate unit reduces the number of requests that the web server must handle, leaving it free to process new requests that it has not serviced before.
Reverse proxy web caching topology

WCCP topologies
You can operate a FortiGate unit as a Web Cache Communication Protocol (WCCP) router or cache engine. As a router, the FortiGate unit intercepts web browsing requests from client web browsers and forwards them to a WCCP cache engine. The cache engine returns the required cached content to the client web browser. If the cache server does not have the required content it accesses the content, caches it and returns the content to the client web browser.
WCCP topology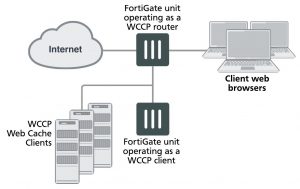 Having trouble configuring your Fortinet hardware or have some questions you need answered? Check Out The Fortinet Guru Youtube Channel! Want someone else to deal with it for you? Get some consulting from Fortinet GURU!
Don't Forget To visit the YouTube Channel for the latest Fortinet Training Videos and Question / Answer sessions!
- FortinetGuru YouTube Channel
- FortiSwitch Training Videos

Cybersecurity Videos and Training Available Via: Office of The CISO Security Training Videos