Monitoring WAN optimization performance
Monitoring WAN optimization performance
Using WAN optimization monitoring, you can confirm that a FortiGate unit is optimizing traffic and view estimates of the amount of bandwidth saved. The WAN optimization monitor presents collected log information in a graphical format to show network traffic summary and bandwidth optimization information.
To view the WAN optimization monitor, go to Monitor > WAN Opt. Monitor.
WAN optimization monitor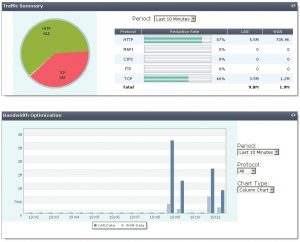 Traffic Summary
The traffic summary shows how WAN optimization is reducing the amount of traffic on the WAN for each WAN optimization protocol by showing the traffic reduction rate as a percentage of the total traffic. The traffic summary also shows the amount of WAN and LAN traffic. If WAN optimization is being effective the amount of WAN traffic should be lower than the amount of LAN traffic.
You can use the refresh icon to update the traffic summary display at any time. You can also set the amount of time for which the traffic summary shows data. The time period can vary from the last 10 minutes to the last month.
Bandwidth Optimization
This section shows network bandwidth optimization per time period. A line or column chart compares an application's pre-optimized size (LAN data) with its optimized size (WAN data). You can select the chart type, the monitoring time period, and the protocol for which to display data. If WAN optimization is being effective the WAN bandwidth should be lower than the LAN bandwidth.
Having trouble configuring your Fortinet hardware or have some questions you need answered? Check Out The Fortinet Guru Youtube Channel! Want someone else to deal with it for you? Get some consulting from Fortinet GURU!
Don't Forget To visit the YouTube Channel for the latest Fortinet Training Videos and Question / Answer sessions!
- FortinetGuru YouTube Channel
- FortiSwitch Training Videos

Cybersecurity Videos and Training Available Via: Office of The CISO Security Training Videos