FortiOS 5.6 Beta 2 Kicks Ass
So, if you guys have viewed or read my "Where Fortinet is Messing Up" page….you know that I much prefer the way Palo Alto Networks does app assignment on policies.
5.6 Beta 2 is flipping that on it's head though as it seems to be more aligned. The ability to select the policy and the web category from the policy is going to make policy creation significantly more granular and simple / straight forward.
I am a happy boy!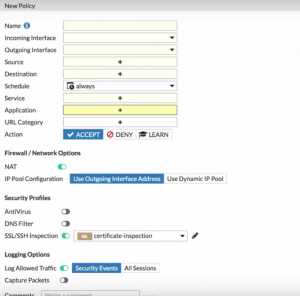 Having trouble configuring your Fortinet hardware or have some questions you need answered? Check Out The Fortinet Guru Youtube Channel! Want someone else to deal with it for you? Get some consulting from Fortinet GURU!
Don't Forget To visit the YouTube Channel for the latest Fortinet Training Videos and Question / Answer sessions!
- FortinetGuru YouTube Channel
- FortiSwitch Training Videos

Cybersecurity Videos and Training Available Via: Office of The CISO Security Training Videos