We got some new hardware in the other day that we decided to rack today. Nothing too fancy, a few FortiGate 300D's for an HA cluster, a few FortiSwitches, A FortiManager 200D and a FortiAnalyzer 200D. This are replacing older antiquated 100C units that we have hacked (installed a SSD in each) and prodded until they just couldn't keep up anymore. The below picture is a quick shot of the devices before cable management and full connectivity has been completed.
You could say we have a pretty strong affinity for Fortinet Hardware. Hopefully this shows a bit of it. What is NOT in the photo are the AP's throughout and a few other items.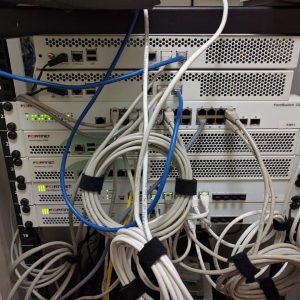 Having trouble configuring your Fortinet hardware or have some questions you need answered? Check Out The Fortinet Guru Youtube Channel! Want someone else to deal with it for you? Get some consulting from Fortinet GURU!
Don't Forget To visit the YouTube Channel for the latest Fortinet Training Videos and Question / Answer sessions!
- FortinetGuru YouTube Channel
- FortiSwitch Training Videos

Cybersecurity Videos and Training Available Via: Office of The CISO Security Training Videos