New options for editing policies from the policy list
New options for editing policies from the policy list
All of the security policy lists (Policy & Objects > IPv4 and so on) have new options for controlling the columns displayed for policies, for editing policies, and for accessing FortiView data or log messages generated by individual policies. You can access these options clicking or right-clicking on the policy list header or on individual policies.
For example, as shown below if you click on the Security Profiles settings for a policy a list of categories and profiles appears on the left of the GUI. The list highlights the security profile options added to the policy. You can select a profile option to add it to a policy. You can deselect an option to remove it from a policy. Similar lists are available to select addresses, services, user groups, devices, and so on.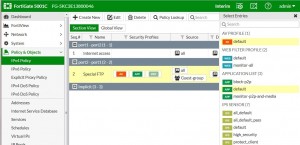 Having trouble configuring your Fortinet hardware or have some questions you need answered? Check Out The Fortinet Guru Youtube Channel! Want someone else to deal with it for you? Get some consulting from Fortinet GURU!
Don't Forget To visit the YouTube Channel for the latest Fortinet Training Videos and Question / Answer sessions!
- FortinetGuru YouTube Channel
- FortiSwitch Training Videos

Cybersecurity Videos and Training Available Via: Office of The CISO Security Training Videos