In case you guys haven't heard the news yet, Fortinet has released the FortiGate 6040E. This is a pretty handy firewall that helps Enterprise organizations achieve the level of UTM/NGFW functionality they need without having to spend obscene amounts of money on hardware capable.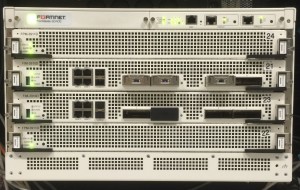 This device is substantially stronger, has modified management capabilities and can flow 320 Gbps of firewall throughput (80 Gbps UTM/NGFW). The FortiGate 6040E has 6 available options right now that you can see in the image below.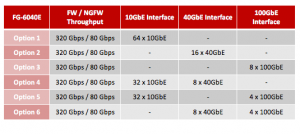 Fortinet's blog has a really good break out of the device as well as the benefits and cool features it has. Click here to see!
Having trouble configuring your Fortinet hardware or have some questions you need answered? Check Out The Fortinet Guru Youtube Channel! Want someone else to deal with it for you? Get some consulting from Fortinet GURU!
Don't Forget To visit the YouTube Channel for the latest Fortinet Training Videos and Question / Answer sessions!
- FortinetGuru YouTube Channel
- FortiSwitch Training Videos

Cybersecurity Videos and Training Available Via: Office of The CISO Security Training Videos