[Static Routing Subnet]: Subnet in WAN
 [Static Routing Subnet]: Subnet in WAN
This topology is found where IPv4 private static routing subnet is located on the WAN. In other words, the private subnet on the WAN does not connect to FortiWAN directly. Instead, it connects to a router which helps to transfer its packets.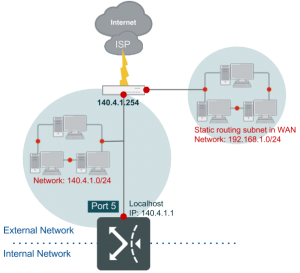 Hence, in [Static Routing Subnet], [Gateway] IP address is that of the router.
Having trouble configuring your Fortinet hardware or have some questions you need answered? Check Out The Fortinet Guru Youtube Channel! Want someone else to deal with it for you? Get some consulting from Fortinet GURU!
Don't Forget To visit the YouTube Channel for the latest Fortinet Training Videos and Question / Answer sessions!
- FortinetGuru YouTube Channel
- FortiSwitch Training Videos

Cybersecurity Videos and Training Available Via: Office of The CISO Security Training Videos