Packet flow: FortiGates with NP6 processors – packets in an NTurbo session
Packet flow: FortiGates with NP6 processors – packets in an NTurbo session
If your FortiGate supports NTurbo, many flow-based UTM/NGFW sessions can be offloaded to NP6 processors.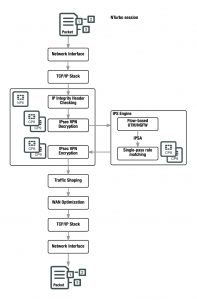 After the first packet, subsequent packets in an offloaded flow-based UTM/NGFW session skip routing, and kernel processors. Flow-based UTM/NGFW operations are still handled by the CPU with IPSA offloading pattern matching to CP8 or CP9 processors.
If a security threat is found the session is dropped. Otherwise, packets that are not blocked by UTM/NGFW are forwarded out of the egress interfaces by the NP6 processor.
NTurbo is not compatible with DoS polices, session helpers, or and most types of tunneling. If any of these features are present, flow-based UTM/NGFW sessions are not offloaded by NTurbo.
Having trouble configuring your Fortinet hardware or have some questions you need answered? Check Out The Fortinet Guru Youtube Channel! Want someone else to deal with it for you? Get some consulting from Fortinet GURU!
Don't Forget To visit the YouTube Channel for the latest Fortinet Training Videos and Question / Answer sessions!
- FortinetGuru YouTube Channel
- FortiSwitch Training Videos

Cybersecurity Videos and Training Available Via: Office of The CISO Security Training Videos