Latest Office of The CISO Videos:
Who is Office of The CISO? - How to Get Into Cybersecurity - What is a Chief Information Security Officer?
What is a SOC Analyst?
---
Adding External Security Devices
Adding External Security Devices
External Security Devices can be configured as means to offload processes to other devices, such as a FortiWeb, FortiCache, or FortiMail. Example processes could include HTTP inspection, web caching, and anti-spam.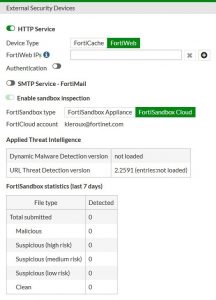 To configure such a device, go to System > External Security Devices.
Having trouble configuring your Fortinet hardware or have some questions you need answered? Check Out The Fortinet Guru Youtube Channel! Want someone else to deal with it for you? Get some consulting from Fortinet GURU!
Don't Forget To visit the YouTube Channel for the latest Fortinet Training Videos and Question / Answer sessions!
- FortinetGuru YouTube Channel
- FortiSwitch Training Videos

Cybersecurity Videos and Training Available Via: Office of The CISO Security Training Videos