GRE over IPsec (Cisco VPN)
GRE over IPsec (Cisco VPN)
This section describes how to configure a FortiGate VPN that is compatible with Cisco-style VPNs that use GRE in an IPsec tunnel.
The following topics are included in this section:
Overview
Configuring the FortiGate unit
Configuring the Cisco router
Troubleshooting
Overview
Cisco products that include VPN support often use Generic Routing Encapsulation (GRE) protocol tunnel over IPsec encryption. This chapter describes how to configure a FortiGate unit to work with this type of Cisco VPN.
Cisco VPNs can use either transport mode or tunnel mode IPsec. Before FortiOS 4.0 MR2, the FortiGate unit was compatible only with tunnel mode IPsec.
Example FortiGate to Cisco GRE-over-IPsec VPN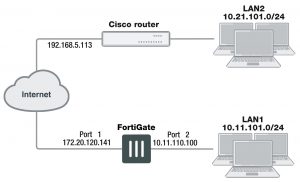 In this example, users on LAN1 are provided access to LAN2.
Having trouble configuring your Fortinet hardware or have some questions you need answered? Check Out The Fortinet Guru Youtube Channel! Want someone else to deal with it for you? Get some consulting from Fortinet GURU!
Don't Forget To visit the YouTube Channel for the latest Fortinet Training Videos and Question / Answer sessions!
- FortinetGuru YouTube Channel
- FortiSwitch Training Videos

Cybersecurity Videos and Training Available Via: Office of The CISO Security Training Videos