FortiGate AWS Deployment Guide
Overview
This document is design to be a quick start walk-though in setting up a virtual Fortinet device utilizing the AWS services. We will start out reviewing some of the AWS concepts. If you would like to download the PDF of this guide please click FortiGate AWS Deployment Guide PDF
Amazon Virtual Private Cloud (Amazon VPC)
Amazon VPC lets you provision a logically isolated section of the Amazon Web Services (AWS) Cloud where you can launch AWS resources in a virtual network that you define. You have complete control over your virtual networking environment, including selection of your own IP address range, creation of subnets, and configuration of route tables and network gateways. You can also create a Hardware Virtual Private Network (VPN) connection between your corporate datacenter and your VPC and leverage the AWS cloud as an extension of your corporate datacenter.
You can easily customize the network configuration for your Amazon VPC. For example, you can create a public-facing subnet for your web servers that have access to the Internet, and place your backend systems such as databases or application servers in a private-facing subnet with no Internet access. You can leverage multiple layers of security, including security groups and network access control lists, to help control access to Amazon EC2 instances in each subnet.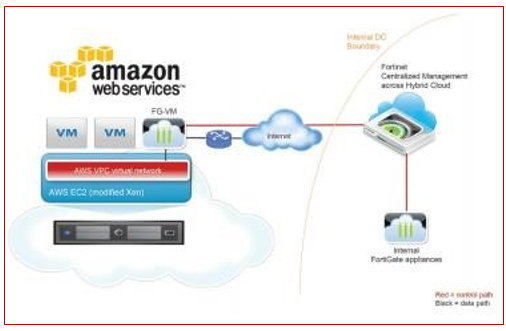 Having trouble configuring your Fortinet hardware or have some questions you need answered? Check Out The Fortinet Guru Youtube Channel! Want someone else to deal with it for you? Get some consulting from Fortinet GURU!
Don't Forget To visit the YouTube Channel for the latest Fortinet Training Videos and Question / Answer sessions!
- FortinetGuru YouTube Channel
- FortiSwitch Training Videos

Cybersecurity Videos and Training Available Via: Office of The CISO Security Training Videos