Cloud Access Security Inspection (CASI)
Cloud Access Security Inspection (CASI)
This feature introduces a new security profile called Cloud Access Security Inspection (CASI) that provides support for fine-grained control on popular cloud applications, such as YouTube, Dropbox, Baidu, and Amazon. The CASI profile is applied on a policy much like any other security profile.
Unfortunately CASI does not work when using Proxy-based profiles for AV or Web fil- tering for example.
Make sure to only use Flow-based profiles in combination with CASI on a specific policy.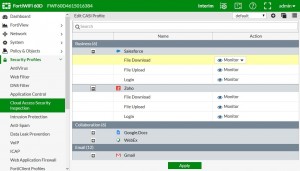 For this feature, Deep Inspection of Cloud Applications (set deep-app-inspection [enable|disable]) has been moved out of the Application Control security profile options.
You will find the Cloud Access Security Inspection feature under Security Profiles > Cloud Access Security
Inspection, but you must first enable it in the Feature store under System > Feature Select > CASI.
Having trouble configuring your Fortinet hardware or have some questions you need answered? Check Out The Fortinet Guru Youtube Channel! Want someone else to deal with it for you? Get some consulting from Fortinet GURU!
Don't Forget To visit the YouTube Channel for the latest Fortinet Training Videos and Question / Answer sessions!
- FortinetGuru YouTube Channel
- FortiSwitch Training Videos

Cybersecurity Videos and Training Available Via: Office of The CISO Security Training Videos